Bitcoin back to $10K Proves the Bulls Still in Command
Bitcoin (+2.28%) is again above $10K, after 12 hours of buying strength that moved its price from $9,700 up to close to $10,300. The rest of the sector also behaved strong, led by Ethereum (+4.38%), which was seen again above $280. Among the best performers are Tezos (+5.91%), Algo(+5.4%), and Icon (+11.9%). The best Ethereum token performer is MKR (+10.35%), reaching the $673 level. Also, CENNZ(+10,6%) and NJ(+7.55%) continue moving strongly.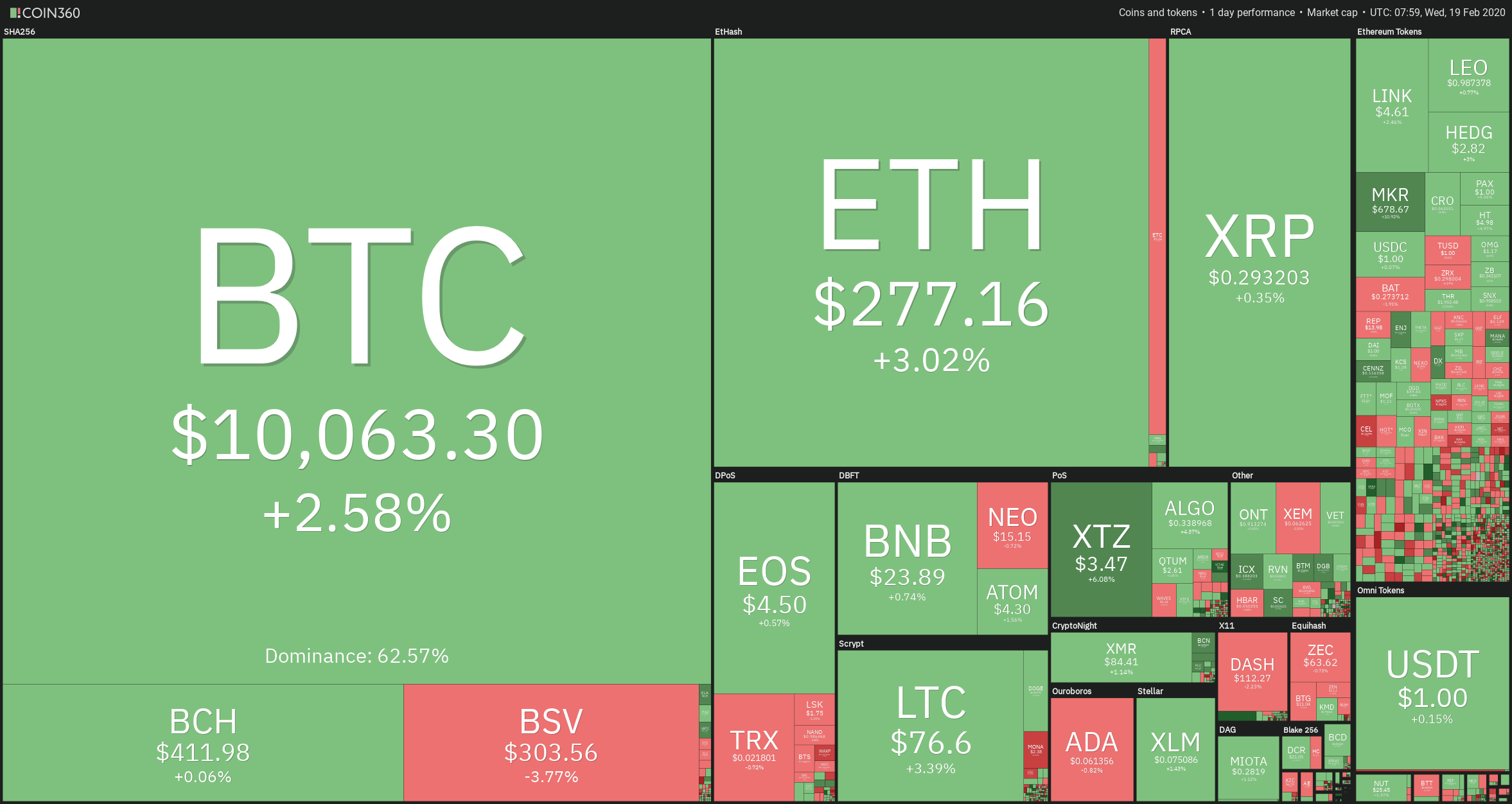 The market cap of the crypto sector continued growing and now is $293.238, a 3.8% growth. The traded volume descended to $60 billion in the last 24 hours, which is close to 12 percent less than in the previous session. The dominance of Bitcoin remained stable at 62.57 percent.
Hot News
SEC Commissioner Hester Peirce proposed to give a three-year period to token projects before applying the current security laws to it, as a way to help the project adequately evolve. Although this proposal seems to please the sector, and even consider it necessary, there are many unanswered issues with this proposition, including what happens with the project regarded as immature. And the definition of what does it mean network maturity. Her proposal could be applied without the need for an act of Congress, but a majority of the SEC commissioners would need to sign on, and that is not yet clear.
"The next step is to get people to rip it apart and tell me what I did right, tell me what I got wrong," said Hester Pierce.
Technical Analysis: Bitcoin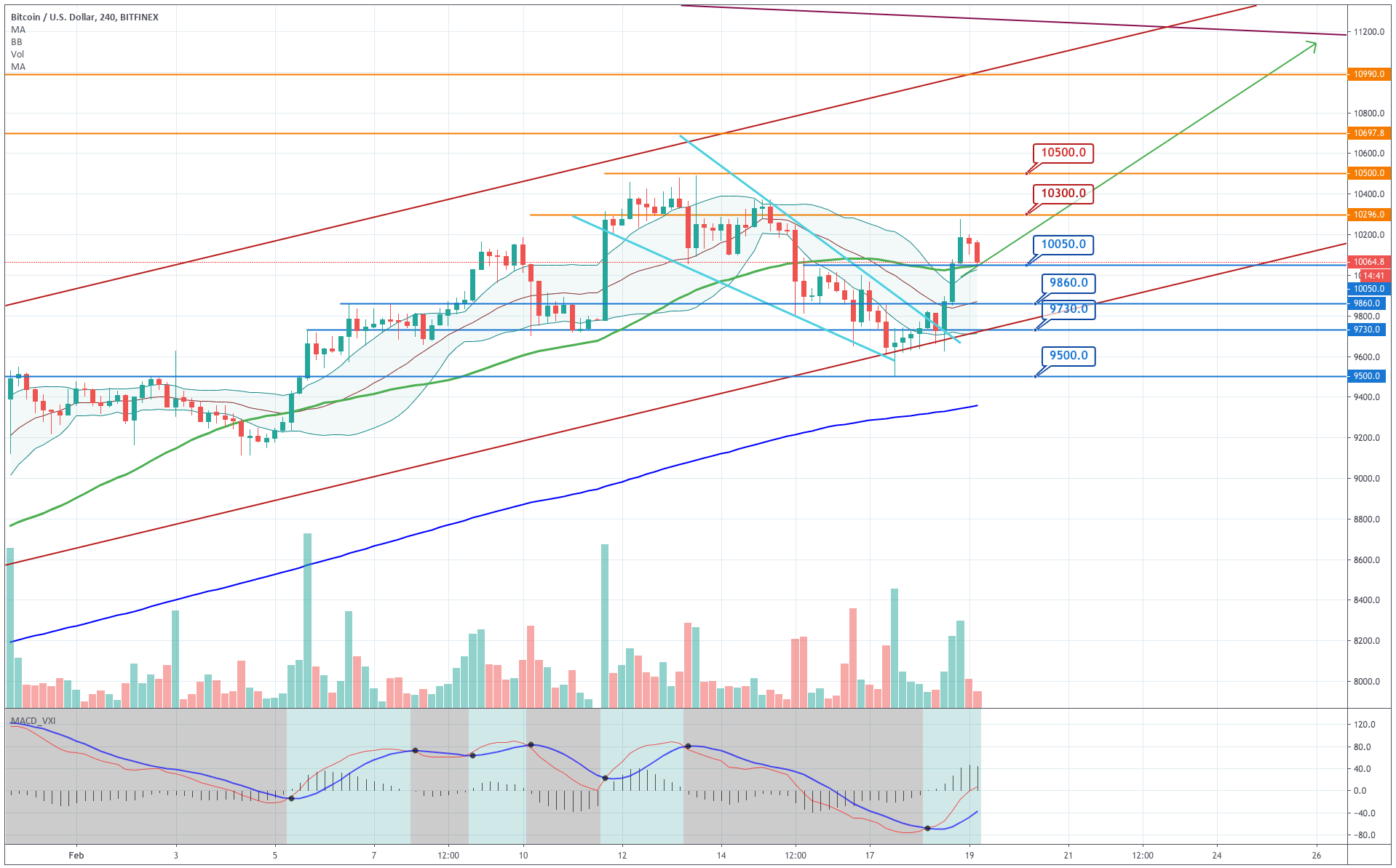 After touching several times the lower side of the ascending channel and making several small- bodied bottoming candles, Bitcoin had 12 hours of strong push that sent its price back above $10K, precisely to $10,275, from where it was rejected. Currently, it is pulling back slightly, but now BTC is back above its 50-period SMA and also above its +1SD Bollinger line. $10,050 is acting as support of the price, which is, too, the current level of its 50-P SMA.
Support

Pivot Point

Resistance

9,860

10,050

 

10,300

9,720

10,500

9,500

10,700
Ripple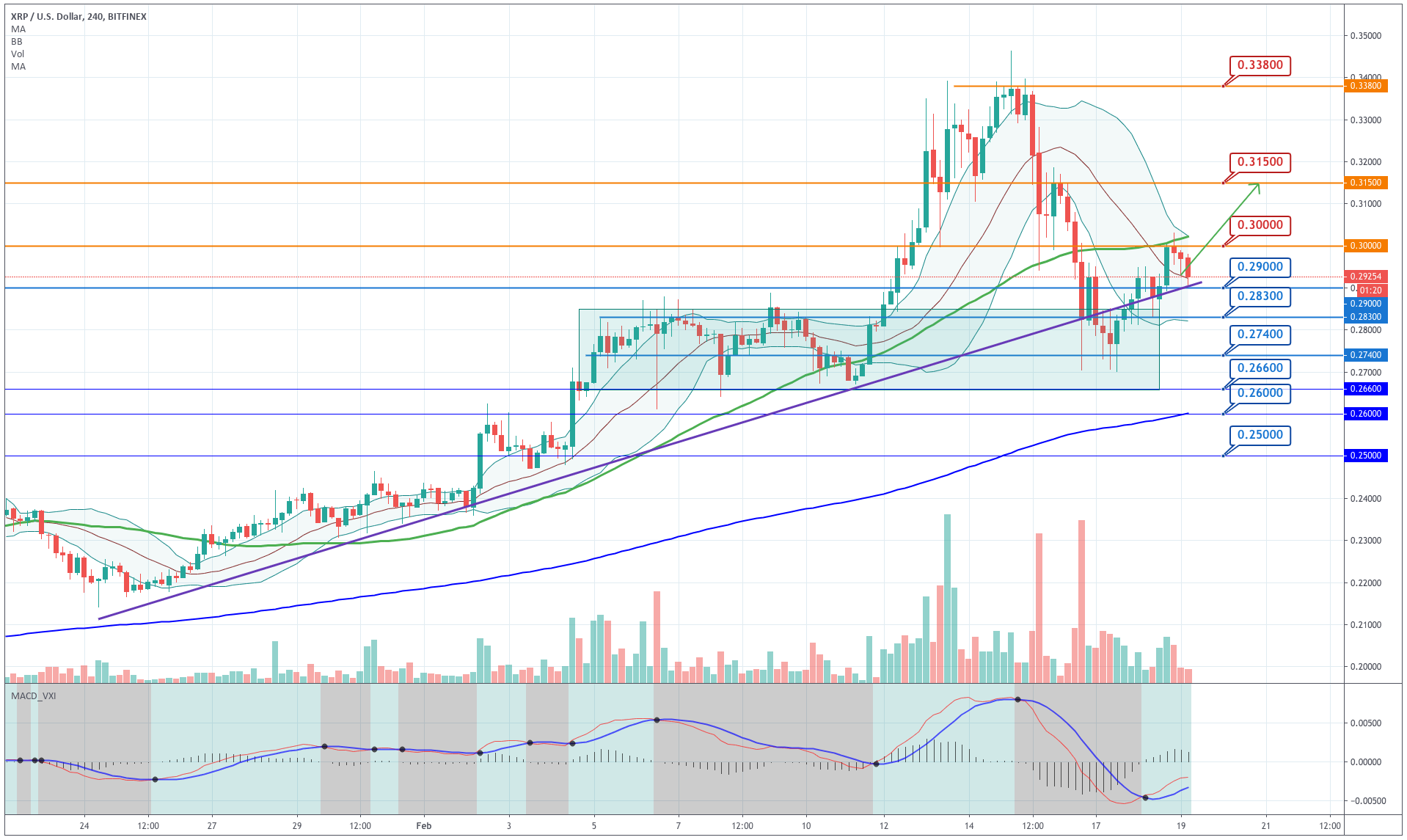 Ripple had a modest push up to the $0.3 level, from which it was rejected and now is close to the $0.29 level. The price has moved to the upper side of the Bollinger bands, and above the ascending trendline, while its MACD still is in a bullish phase.
We still consider the current action as bullish since, added to the technical factors in favor of it, the whole sector is bullish and highly correlated. The level to keep an eye on is $0.28. A drop below it would send XRP to test the $0.26 again.
Support

Pivot Point

Resistance

0.2830

0.2900

 

0.3000

0.2740

0.3150

0.2660

0.3380
Ethereum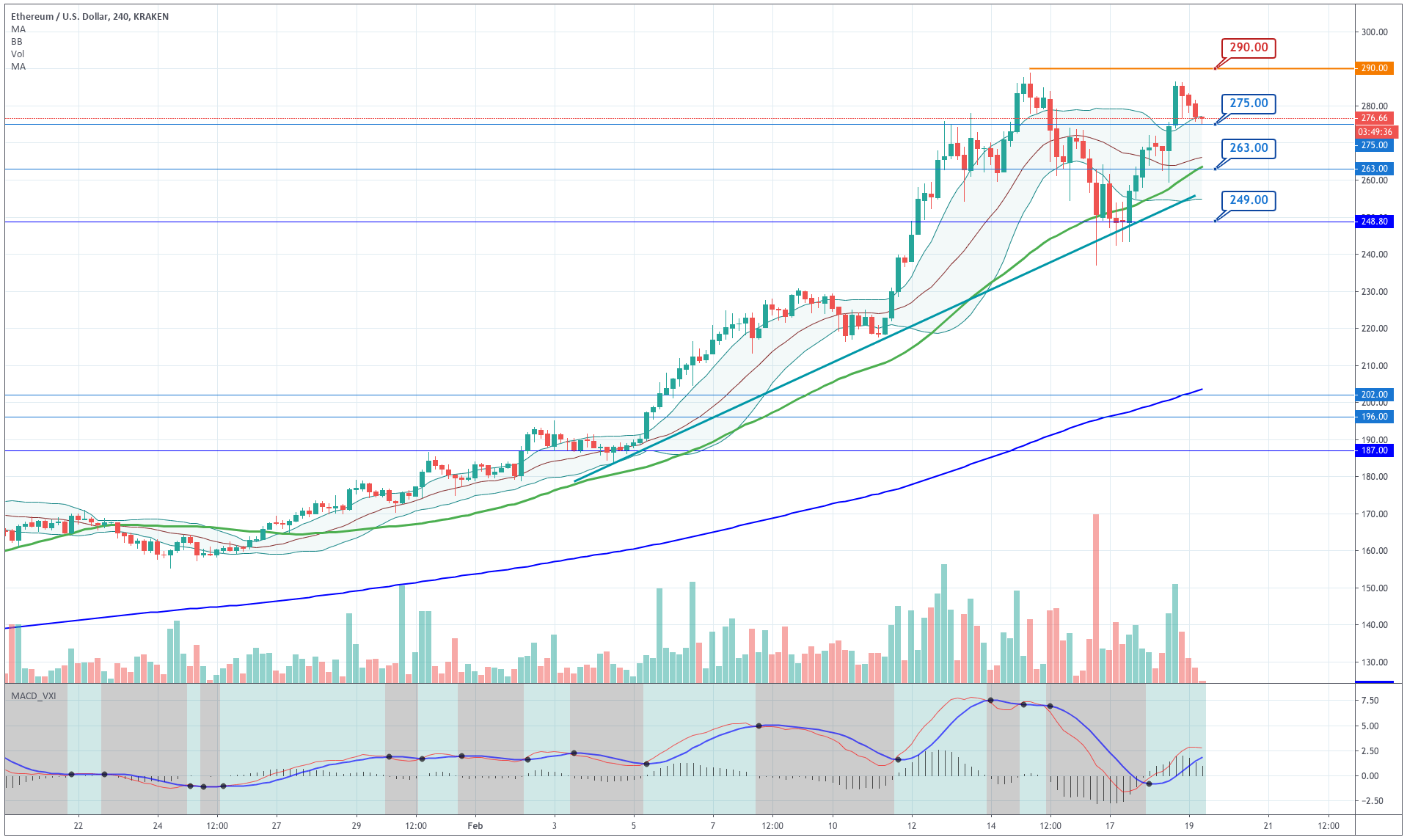 Ethereum bounced strongly from its $249 level following several failed attempts to break the ascending trendline. The price moved up to near the $290 and now is pulling back to $275. The price still moves near its +1SD Bollinger line and touching the $275 support. The upward trend is strong; thus, we think it will soon resume its upward movement towards the $300 level.
Support

Pivot Point

Resistance

263

275

 

290

249

303

240

316
Litecoin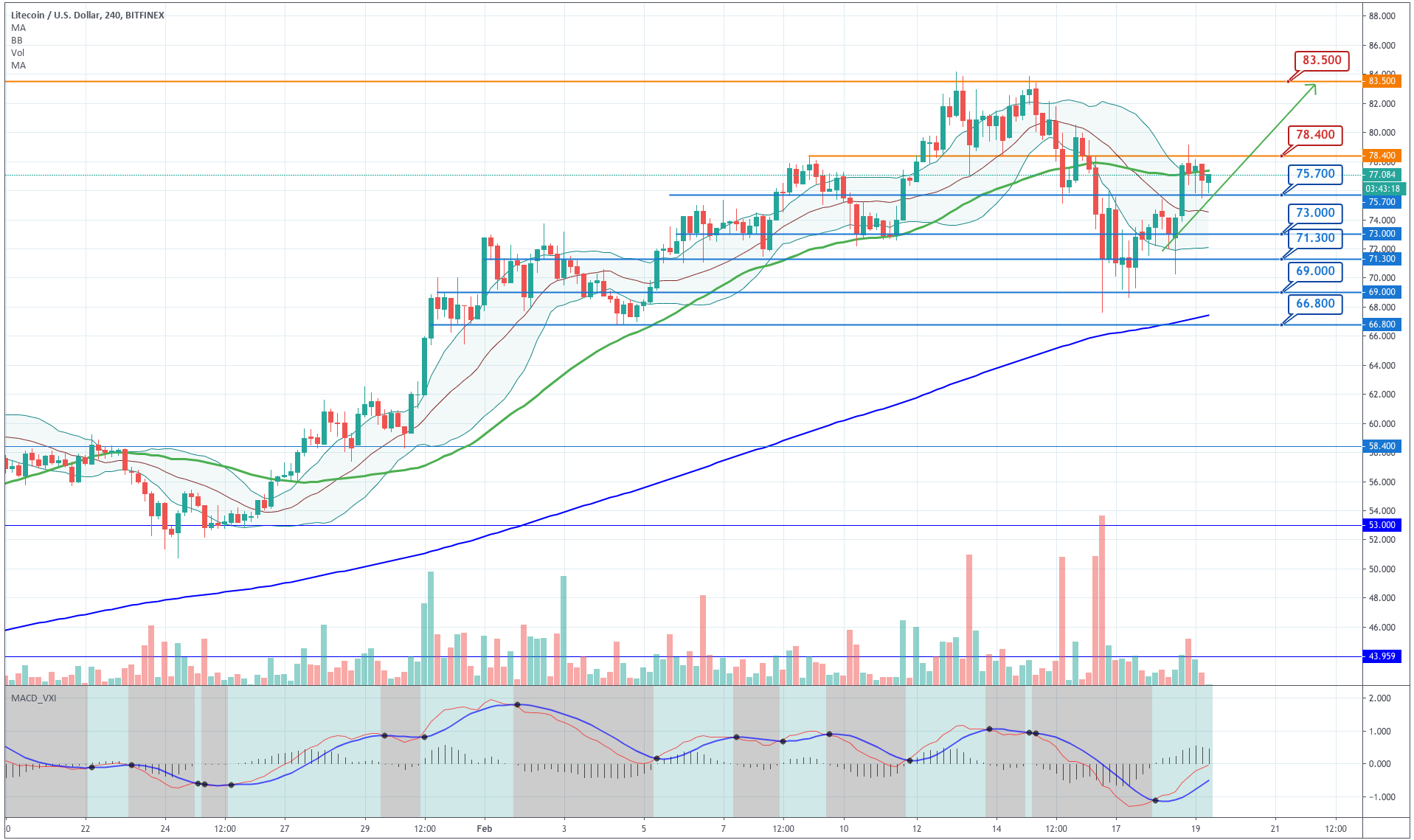 Litecoin moved up above the support area and, after being rejected by the $78.4 level is ranging above $75.7. The price is moving close to its +1SD Bollinger line, and the MACD is bullish. Also, considering the overall bullishness of the crypto market, we think Litecoin should continue moving up and test its $83.5 level again.
Support

Pivot Point

Resistance

73

75.7

 

78.4

71.3

83.5

69

90
---
Try Secure Leveraged Trading with EagleFX!