AMD stock price is presently trading at $117.60 while witnessing a gain of 2.80% during the intraday session.
The year-to-date return of AMD stock price is 78.19% and the three-month return is 40.77%.
Advanced Micro Devices, Inc., termed AMD, is a U.S based multinational semiconductor company. The company develops computer processors and related technologies like video cards for business and consumer markets. It is well known for its AMD Ryzen processors and AMD Radeon video cards.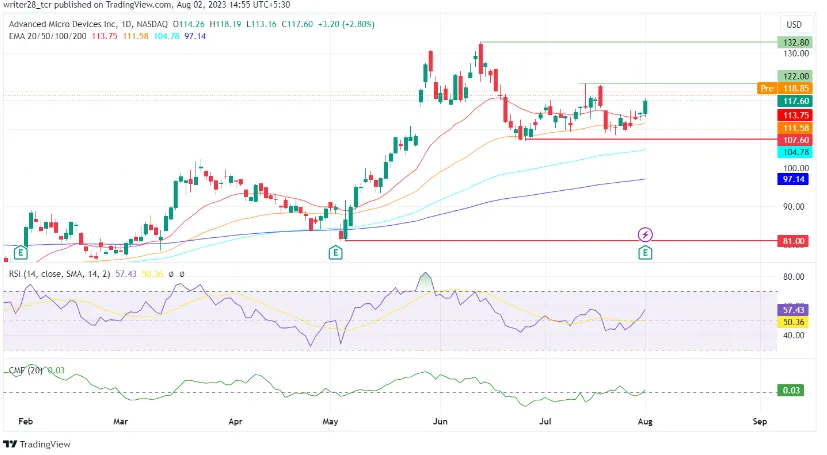 Since early May 2023, the AMD stock price has witnessed a long march of bullish dominance in the market. Amid the price breakout in January, AMD stock price thrived and performed well in the previous months. The price has substantially observed returns of 78.19%, 40.77%, 4.04%, and 5.81% in the time frame of YTD, six months, monthly, and weekly, respectively. 
Therefore, the Advanced Micro Devices stock price increased roughly 51% from May to June. Furthermore, it reached an annual high of $132.83 but was halted at a resistance level. The dominance of bulls thrived during this time frame.
The resistance level of the $132.83 price has shown a downward momentum as bearish pressure rises in the market. Hence, the AMD stock price is now stuck in the consolidating zone.
Presently, the price is trading with a gain of 2.80% during the intraday session, indicating mild bullish momentum. There is a high probability that the price will bounce back and reach the $122 level If the current bullish sentiment sustains in the market.
AMD is expected to ramp up production of its flagship MI300 artificial intelligence chips in the fourth quarter. These MI300 accelerator chips will provide an upper hand to compete against the advanced H100 by Nvidia.
Technical Analysis of AMD
The relative strength index (RSI) trades at 57.43; as the RSI moves with upward momentum, the rise in buyers' participation in the market has been sustained in the past 24 hours.
The Chaikin money flow score is 0.03, indicating the strength in the market during the intraday session.
The AMD stock price is currently trading above the 20, 50, 100, and 200-day EMA, indicating strength in the market as the dominance of bulls is sustained.
With an average volume of 64.34 Million shares, the market capitalization of AMD stock is $189.37 Billion.
Conclusion
The market structure represents the AMD stock price in the consolidating zone. The market sentiment is bullish, as the indicators reflect the same. Investors should look for buying opportunities for the long term as AMD is expected to ramp up production of its MI300 AI chips.